Cloud PBX
Stay Connected, Anytime, Anywhere
Tailored for Your Enterprise: Customized Cloud PBX Solutions for Optimal Communication
Cloud PBX Hosting
Elevate Satisfaction with Cloud PBX-Enabled Communication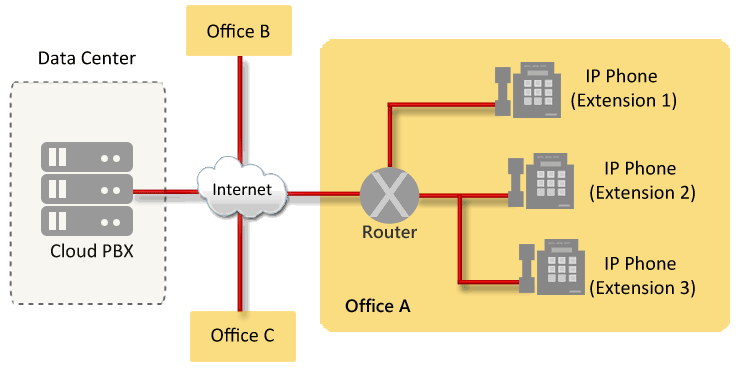 Business communication between branches has never been easier and cost-effective!
Low latency Cloud pbx
No idea how to setup? Engage us to setup for you.
Not Sure Where to Start?
Contact us, we will help you to identify best solution for your business.
FAQ
Common questions for Cloud PBX
Cloud PBX, also known as a virtual phone system, is a communication solution that allows businesses to make and receive calls over the internet. It is an alternative or a replacement for traditional on-premise phone systems by leveraging cloud technology.
How does Cloud PBX differ from traditional phone systems?
Traditional PBX systems usually require physical equipment on-site, whereas cloud PBX operates in the remote PBX systems. It offers greater flexibility, scalability, and cost-effectiveness as it eliminates the need for hardware maintenance and allows for easy remote access.
What are the benefits of using a Cloud PBX?
Cloud PBX offers several benefits, including cost savings on traditional PBX hardware and maintenance, scalability to accommodate business growth, accessibility from around the world, advanced call management features, and seamless integration with other communication tools to improve business collaboration.
What features and functionalities are included in Cloud PBX?
Cloud PBX typically offers features such as multiple extensions, call forwarding, voicemail, auto-attendant, call routing, conference call, ring group, and etc.
Is Cloud PBX suitable for my business?
Yes, Cloud PBX is suitable for businesses of all sizes. It can be tailored to the specific needs of small, medium, and large enterprises, providing them with a scalable and cost-effective communication solution.
Is it possible to integrate existing phone systems with your Cloud PBX?
It is often possible to integrate existing phone systems with a Cloud PBX. This allows businesses to leverage their current infrastructure while gradually transitioning to the cloud-based solution. However, there are limitations exist all the time that required technical discussion.
How is the call quality of Cloud PBX as compared to traditional phone systems?
In general, the call quality Cloud PBX is excellent. However, it relies on the stability & quality of internet connection. With a reliable internet connectivity and adequate bandwidth, the call quality is comparable to or even better than traditional phone systems.
Is the Cloud PBX server fully managed?
No, by default, the Cloud PBX is self-managed by the client. In the event that support is required, clients can visit the software vendor forums or support channels to seek assistance. Alternatively, you have the option to subscribe to our server management service for a fixed monthly fee.